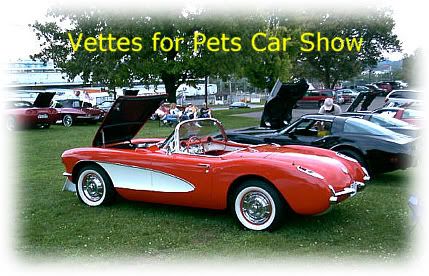 Each year our club hosts our Vettes for Pets Car Show . This show helps out " the Center for Animal Health & Welfare " ( formerly the Northampton County S.P.C.A. ) . Volunteers from the animal shelter are on the show grounds with many dogs that need new homes . These dogs are full of love and searching for new families to adapt them . Hopefully , our efforts will give new life to many of these fine animals !
We thank all of our loyal friends of EACC for coming out to help this show be a success each year !
DJ Brian Keith keeps the music jumping throughout the day and a wide array of cars add a kaleidoscope of color to the grass fields of Meuser Park in Easton, PA - just off of Route 22.
There is always a great Bake Sale and the huge selection of food & beverages to keep show participants very happy indeed . The Door Prizes & 50/50 drawings are always a crowd pleaser as well as the product Vendors onsite at the show.
Even if there is some rain , the covered picnic areas with tables provide shelter for the show participants.
We congratulate all of the show's winners and thank everyone for coming out to Vettes for Pets .
Please visit our " Photo Gallery " to view photographs.
Click Here for SHOW FLIER